Discover the Onn. Google TV Android Box, is a revolutionary addition to the world of IPTV Subscriptions. With the integration of Google TV, this device promises a comprehensive streaming adventure like no other. In this comprehensive review, we'll delve into its features, performance, and user experience, determining whether it truly lives up to the high expectations of avid IPTV enthusiasts. Get ready to elevate your streaming game with the Onn. Google TV Android Box!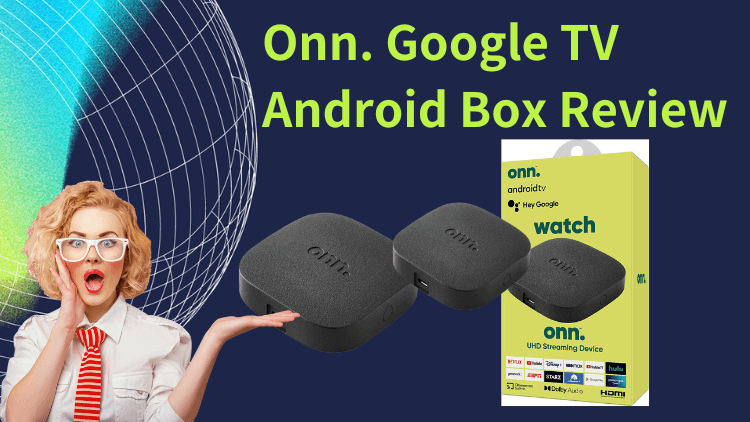 What is Onn. Google TV Android Box?
Introducing the Onn. Google TV Android Box, the latest 4K Google TV adapter brought to you by Onn, Walmart's renowned brand. This cutting-edge device features an enhanced processor for improved performance. With 8GB of RAM, the Onn. Google TV Android Box maintains the same memory capacity as its predecessors. Priced at just $19.98, it stands out as one of the most budget-friendly options compared to the 4K Chromecast. Experience the future of Android TV with this remarkable device, now available for purchase at Walmart stores.
The box offers the same content-forwarding home screen with recommendations and built-in projection. and Google Assistant integration. Sure, compared to the $50 Chromecast. The difference is its Dolby horizon. Add another aspect Onn. Google TV Android Box is very affordable.
Onn. Google TV Android Box Features
Features:
4K Ultra HD resolution for high-quality TV streaming
2GB of memory and 8GB of storage space
WiFi: 2.4/5GHz 802.11 a/b/g/n/ac MIMO for fast and reliable wireless connectivity
Compatibility with Google Assistant for voice control and smart features
CPU: Quad-core Cortex-A35, GPU: Mali-G31 MP2 for smooth performance
Dolby audio technology for an immersive sound experience
Fast wireless network capability
Input: AC 100-240V, 50/60Hz, max 250mA; Output: DC 5V/1A
Powered by Google TV operating system – easily set up with your Google account
Package Contents (Onn. Google TV Android Box):
1 4K streaming box
1 remote control (includes 2 AAA batteries)
1 3.28-foot HDMI cable
1 the quick start guide
1 AC adapter with a 3.28-foot cable
Specifications:
Brand: onn.
Manufacturer Part Number: 28078468
Assembled Product Dimensions (L x W x H): 3.75 x 2.00 x 7.25 Inches
| Onn Android TV Box Pros | Onn Android TV Box Cons |
| --- | --- |
| 1. Super affordable | 1. Sometimes remote unpair yourself. |
| 2. 4K Ultra HD resolution | 2. Language resets occasionally cause errors. |
| 3. Built-in Chromecast for projection of media | 3. Only 2GB of RAM. Expanding internal storage has had its ups and downs |
| 4. Correct home screen positioning | 4. No Dolby video standards |
onn. Google TV Android Box Review
Onn. Google TV Android Box's new TV interface is different from the previous one because it's an Android TV-based model. Here you can think of Google TV as a user interface on top of the Android TV operating system. Below I will give a comprehensive description of the Onn. Google TV Android Box. You can through the Price and the availability of the Design, Remote, Performance, Software, Audio and video, Apps Installed, Onn. Google TV Android Box Sideloading Here are a few points to get to know.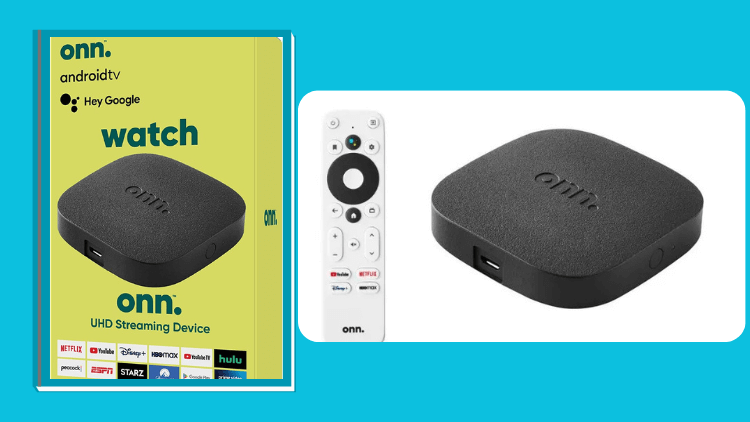 Onn. Google TV Android Box review: Price and availability
The Onn. Google TV Android Box bears a striking resemblance to its predecessor, the old UHD model. However, this time, the device boasts convenient shortcut buttons for YouTube, Netflix+, Disney+, and Paramount+, making streaming your favorite content even more effortless. Remarkably, the subscription for the Onn. Google TV Android Box is priced at approximately $19, which is a considerable $10 less than the Onn Android TV UHD and $20 cheaper than the Roku Express 4K Plus. When compared to the Fire TV Stick 4K and Chromecast with Google TV, the Onn android tv box stands out as a wallet-friendly choice, being approximately $30 cheaper.
Nevertheless, this lower price doesn't compromise functionality, performance, or sensitivity. The Onn. Google TV Android Box delivers an exceptional user experience and strikes the perfect balance between affordability and top-notch features, making it a beloved choice among the majority of users.
The Onn. Google TV Android Box is not aimed at premium theater users at home. Because it is not suitable as a Plex server or cloud gaming gateway. So far, the $20 price has been a very impressive story. It is, after all, an Android gadget.
Onn. Google TV Android Box review: Design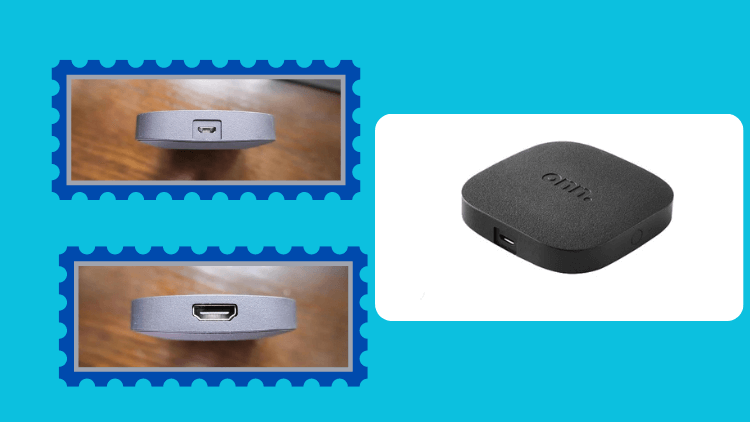 The Onn. Google TV Android Box/onn Android TV Box sports an elegant design with a matte black shell and four sleek corners. Positioned right in the center of the box is the brand's distinctive LOGO. On either side of the box, you will find the micro-USB ports for the power supply, while the HDMI port is conveniently placed on the opposite side. The subtle flashing light is situated between the two ends, adding a touch of modernity to its appearance.
To set up the device, simply position it on a shelf or beside the TV and connect the necessary wires from both ends. This versatile placement option allows you to keep the box fixed in one position or mount it on the TV for seamless integration into your entertainment setup.
Onn. Google TV Android Box review: Remote
The remote control of the Onn. Google TV Android Box/onn Android TV Box offers a pleasant tactile experience, particularly the input button. In addition to the regular buttons found on a typical remote, it also features dedicated buttons for YouTube, Netflix, Disney Plus, and HBO Max, providing quick access to popular streaming services. Moreover, users will appreciate the presence of a Preferences button and a Google Assistant wake button, which allows easy interaction with the Google Assistant. There's also a Bookmarks button that functions as a context menu opener, as well as a YouTube TV button for swift access to the platform. The remote's responsiveness is excellent, and its Bluetooth capability adds to its convenience.
Pairing the Onn Android TV remote with the Android TV box is a breeze—simply press the button located on the back of the Onn remote. If you encounter any issues with pairing or returning to the home screen, you can rely on the Google TV app on your phone or tablet to control the TV.
One notable aspect of the Onn. Google TV Android Box's white remote is its impressive build quality, effectively avoiding any perception of cheapness. The buttons are firm and do not produce any rattling sounds. Many users find this remote more comfortable than the Chromecast version, particularly because of its ease of use and handling. Even individuals with larger fingers will find it user-friendly, as pressing the buttons is effortless.
Like most streaming devices, the Onn 4K also comes with some app shortcuts for Netflix, Disney+, Paramount+, and YouTube. Most of them can't be reprogrammed (at least not with a workaround), but holding down the YouTube key will assign the button to YouTube TV or YouTube Music.
The inclusion of Google Voice Assistant on the new Onn. Google TV 4K streaming box proves to be highly functional and works exceptionally well. The built-in microphone performs admirably across various scenarios. However, one limitation to note is that the voice assistant cannot be utilized for third-party app navigation, which could be seen as a minor drawback.
Onn. Google TV Android Box review: Performance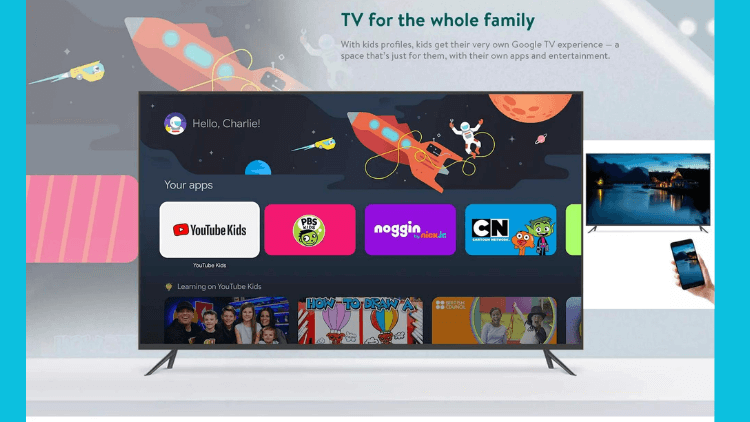 Rest assured that investing in the ONN. Google TV Android Box/onn Android TV Box for approximately $19 will not hinder your user experience. This powerful 4K streaming box offers a seamless way to enjoy your favorite digital channels. With its impressive 4K Ultra HD resolution and support for Dolby Sound, you'll be immersed in an unparalleled viewing experience.
Access an extensive library of over 700,000 movies and shows all in one place. Thanks to Google's voice control, managing your TV becomes effortless. Additionally, the built-in Chromecast feature allows you to effortlessly project your cherished photos, videos, and music onto the screen. It's a fantastic way to showcase family memories stored on your phone, offering both convenience and ease of use.
The device operates on the Google TV operating system, and setting it up using your Google account is a breeze. Powered by a quad-core Cortex-A35 and Mali-G31 MP2 CPU, it ensures smooth and reliable performance. Moreover, its compatibility with Google Assistant makes it an ideal substitute for other devices.
In summary, the ONN. Google TV Android Box/onn Android TV Box is a fantastic choice that offers incredible value for its price. You can indulge in top-notch entertainment and enjoy a hassle-free setup and operation with its user-friendly features and powerful capabilities.
Onn. Google TV Android Box review: Software
The application row on its home screen is closer to the top row, located below the banner. Chromecast with Google TV (which also runs the Android TV app) puts another line of recommended content above your app. This may be something you enjoy, but it tends to get in your way. You can spend some time moving some application bars around. It sometimes shows that the language is changing to different languages, how to fix it? Here, you may need to find the HDMI-CEC Settings that change the language in the Settings.
In terms of specifications, We're talking dual-band Wi-Fi 5, quad-core Cortex-A35 processors. 2GB of RAM and 8GB of storage (like the Chromecast with Google TV 4K), onboard Chromecast, and Google Assistant.
Onn. Google TV Android Box review: Audio and video
When you watch the TV picture, it presents us with 4K picture quality and resolution. as well as any HDR image quality support for Dolby Sound and Dolby Panorama, and it feels like you are already there. In contrast, the Fire TV Stick 4K and Chromecast with Google TV have the best A/V capabilities, supporting HDR10, HDR10+. and Dolby Vision video standards. as well as Dolby Digital, Dolby Digital +, and Dolby Panorama Audio standards. The Roku Express 4K Plus (HDR10/10+, HLG, and Dolby Audio) is not complete.
Apps Automatically Installed
Onn. Google TV Android Box installs apps. So every now and then I need to clear out some apps that I don't use very often because I notice that the remaining storage space is very limited. Below is my view of the installed apps and I will clear the ones I don't use.
Apple TV
Disney +
ESPN
HBO Max
calabash
Netflix
Paramount +
Premium video
YouTube
YouTube Music
What you need to know is that you can't uninstall system apps like YouTube, YouTube Music, or Netflix.
Onn. Google TV Android Box Sideloading
How to sideload on Onn. Google TV Android Box, will be my more interesting. First, we were able to launch the TROYPOINT Toolbox and side-load Wolf Launcher, Launcher Manager, Unlinked, and a few other tools. Then they all do the corresponding work in their own way.
Onn. Android TV 4K Android Box Reviews Video
The following video is a detailed explanation of the Onn. Android TV 4K Android Box Reviews. It mainly introduces its price, cable, Micro-USB port and WiFi, Settings, audio, performance, and Plex… And so on related content, details can see in the video introduction.
Onn. Google TV Android Box Alternative -2023 Best Android TV Box
If you are looking for a Box that is as good or better than the Onn.Google TV Android Box. then here I will put together a few things for you about the Onn. Google TV Android Box Alternative. It is also a 2023 Best Android TV Box list. And some recommendations for a new screen with Android TV built in.
Nvidia Shield TV
Google Chromecast with Google TV(4K)
Nvidia Shield TV Pro
Xiaomi TV Stick 4k(MI BOX)
Chromecast with Google TV (HD)
Nvidia Shield TV
It's the best Android TV device for most people today. Excellent video quality and many supported standards. Fast performance with obvious results for excellent upgrades of content below 4K. It's more expensive, around $150 on Amazon.
Google Chromecast with Google TV(4K)
If you're put off by the high price of Shield TV, Chromecast with Google TV is a good option. Priced at $50, it also offers support for a wide range of AV standards, and unlike the Shield, it has HDMI 2.1. But, it only has 8 GB of storage, which will be a problem if you want to use a lot of apps. It's a great Android TV starter.
Nvidia Shield TV Pro
It's an expensive box around $200. The Shield TV Pro is a premium version of the basic model "tube". It has all the same features, plus extra RAM and storage, and USB ports. and Plex integration – Shield itself acts as a server where you can stream content from other devices.
View related content: How to install AirTV IPTV on Nvidia Shield?
Xiaomi TV Stick 4k(MI BOX)
This is a cheap Android TV adapter not made by Google, and it costs around $60. While it's not the cheapest Android TV box, the TV Stick 4K comes with desirable features like Dolby Vision Compatibility. which is something you won't find in super affordable options like Chromecast with Google TV (HD) or Walmart Onn streaming. It's an alternative to Chromecast devices.
View related content: How to Install AirTV IPTV on Mi Box.
Chromecast with Google TV (HD)
This is a great choice for a sub-4K screen. It supports 4K Chromecast with the 1080p version of Google TV. The experience between the two is almost identical. the difference is that this model has the greatest resolution of 1080p and does not support Dolby Vision. The price is around 30 dollars, which is cheap. Comparable to the Onn. Google TV Android Box.
View related content: How to Jailbreak Chromecast With Google TV.
If you want to learn more about the best IPTV BOX and want it to work well with your IPTV. So check it out here.
Related Tutorial Guide:
Is the Onn box worth it?
At first glance, Walmart's Onn 4K Streaming Box with its price tag of less than $20 might not seem like much to write home about. However, you'd be pleasantly surprised to discover that this new device is anything but ordinary. In fact, it stands out as a remarkably solid performer, even outshining Google's own $30 Chromecast dongle when it comes to value and functionality. It is reliable for users on a limited budget.
FAQ
What is Onn TV?
Onn stands among a select group of private-label brands exclusively available through a single retailer. Similar to Best Buy's Insignia TVs and soundbars, Amazon Basics cables and accessories, and Target's Heyday products, Onn offers a range of TVs and other items. When compared to more renowned brands, Onn TVs are often priced more affordably, making them a cost-effective choice for consumers.
Is Onn TV a good brand?
Onn is a great TV brand. It is cheap and is the choice of most people. With a sleek design look, you also have Roku, voice control, can connect to only Assistant, and good customer service. For such a price, you can get a 4K UHD resolution picture and a widescreen display. and DLED etc. The only downside is that they don't last as long as other TVS due to poor manufacturing quality and are not good for gaming.
Can I replace Android TV with Google TV?
Yes, it is possible to replace Android TV with Google TV on compatible devices. Google TV is an upgraded version of Android TV and offers a more refined user experience with enhanced content discovery and personalized recommendations.
However, whether you can replace Android TV with Google TV depends on the specific device you own. Some devices may receive official updates or firmware upgrades from the manufacturer that transition them from Android TV to Google TV. In such cases, you may be able to switch to the Google TV interface through a software update.
It's important to note that not all Android TV devices may be eligible for the update to Google TV, as it depends on factors such as the device's hardware capabilities and the manufacturer's decision to provide the update. If you're interested in replacing Android TV with Google TV on your device, it's best to check with the device manufacturer or official sources for any available updates or information regarding the transition.
Does Google TV use Android apps?
Yes, Google TV does use Android apps. Google TV is built on the Android TV platform, which means it is compatible with a wide range of Android apps available on the Google Play Store. You can access and install Android apps on your Google TV device, similar to how you would on an Android smartphone or tablet.
Google TV provides a user-friendly interface for app discovery and installation. You can browse and search for apps directly on your Google TV device or use the Google Play Store website on a computer or mobile device to remotely install apps to your Google TV.
While Google TV offers an enhanced interface and content discovery features, it still maintains compatibility with the extensive library of Android apps available on the Google Play Store. This allows you to enjoy a wide variety of apps and services on your Google TV device, including streaming services, games, productivity tools, and much more.
What is the difference between Google TV and Android TV?
Google TV is a redesigned interface with personalized content recommendations and integration of various streaming services. It offers a visually appealing interface and deep integration with Google Assistant. Android TV, on the other hand, has a more traditional interface with app-based navigation and access to a wide range of apps. While both support Google Assistant, Google TV focuses more on content discovery, while Android TV's implementation may vary depending on the manufacturer.
Does Onn TV have Google?
The remote included with the Onn device is slightly longer compared to the one that comes with the Chromecast with Google TV. The setup process for the Onn device is similar to other Google TV devices, allowing you to use the convenient Google Home mobile app to effortlessly complete the setup. This means you can avoid the tedious task of typing out email addresses and passwords using the remote, making the setup process much faster and more convenient.
Is Onn Roku TV an Android TV?
Like other Android TV devices, Onn streaming media devices also function as Chromecast devices. This means that you can use music or video apps on your phone to play media on the TV, and you can also set pictures from Google Photos as screensavers.
What is an Onn device?
Walmart's in-house tech brand Onn. is known for making decent hardware at an affordable price. One such product (or products) came in the form of a discrete Android TV device that became wildly popular due to its very inexpensive price tag.
Final thoughts
All in all, the Onn. Google TV Android Box offers a compelling IPTV streaming solution for those looking for a feature-rich and affordable option. With seamless integration with Google TV. impressive performance, and extensive application compatibility. it provides an experience for accessing and enjoying IPTV subscriptions. The Google TV Android Box has proven to be a strong competitor in the IPTV market, and its price is excellent value for money. Whether you're a casual viewer or a dedicated cord-cutter. Its cost performance and price are very good! Cheap and affordable.
But, if you are willing to spend a little more, the calculation may change. For Google TV users with Dolby Vision TV or Dolby Panorama Sound systems, the $50 4K Chromecast makes more sense. For those who don't sell on Google TV, the Roku Express+ ($40) and Streaming Stick 4K ($50) have simpler menu systems and more reliable performance.
But if you want to get a Box as possible, then the Google TV Android Box might be the best thing for you to pursue.