Apollo Group TV is an independent IPTV service provider in sports. It offers an impressive variety of sports channels, covering everything from football to cricket and even niche sports. While the lack of a free trial was initially an issue, the service's reliability and channel diversity made it a worthwhile investment. This is a great option for anyone looking for a comprehensive UK IPTV sports experience.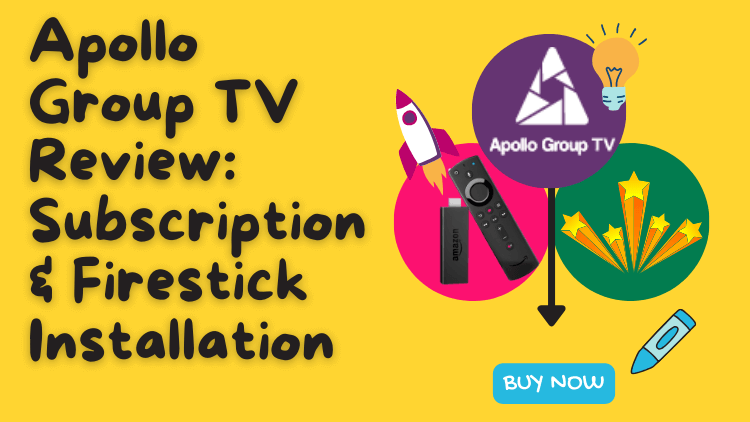 Unlock a world of entertainment with our comprehensive review of Apollo Group TV! In this exploration, we dive into the subscription details and step-by-step Firestick installation process, ensuring you make the most of this cutting-edge streaming service.
This article also provides a comparison with the Apollo Group TV alternative –AirTV IPTV service. and highlights their unique features and advantages. As well as some content on related AirTV IPTV services. If you want that farewell wire cutter and want to view stable live content and sporting events. Then please read this article in detail.
What is Apollo Group TV

Witness the rapid ascent of Apollo Group TV, and dive into an impressive lineup of over 1,000 HD channels across regions including the US, Canada, and the UK, alongside a plethora of international selections. Your viewing options are limitless with an on-demand trove of over 5,000 movies and TV shows, ensuring you're entertained around the clock.
Apollo Group TV caters to the modern viewer's demand for flexibility, allowing you to enjoy your cherished shows on any device. Compatible with TVs, smartphones, tablets, and computers, this service molds to your lifestyle, providing entertainment on your terms.
Subscribing to Apollo Group TV means unlocking a treasure of entertainment without the hefty price tag. Forget the steep costs of premium sports channels and the annoyance of cable bills. With Apollo Group TV, you're granted a full spectrum of programming at no extra cost, transforming your viewing experience while preserving your budget.
Apollo Group TV Reviews
Apollo TV doesn't just offer a wealth of TV channels, there are more great aspects of it that you can't miss, and we'll take a look at the features it includes with its basic subscription plan.
Apollo Group TV Features
| PROS | CONS |
| --- | --- |
| Support Android/Android TV/Ios/PC/MAC/Firestick platform | No adult channels are available |
| Compatible with IPTV Players | No recording or catch-up is available |
| Free Trial | No free trial |
| Maximum Devices per User | No Xtream code or MAC support |
| Payment Options | |
| VPN Support | |
| Electronic Program Guide (EPG) | |
| Pay-Per-View (PPV) | |
| Live Sports Events | |
| All categories (sports, entertainment, news, kids, etc.) | |
| Customer support via email, Discord, and Telegram | |
| No Geographic IP Locks | |
| Apollo Group TV App Available | |
| M3U playlist | |
Apollo Group TV subscription
If you want to watch Apollo TV, you need to sign up for an account before you can subscribe to the Apollo Group package. Instant Apollo offers a subscription plan that is simple and straightforward, but you can watch 5 streams on 1 network at the same time.
However, if you are in the US, Mexico, or Canada, then you can watch 5 streams on 2 different networks.
Apollo Group TV pricing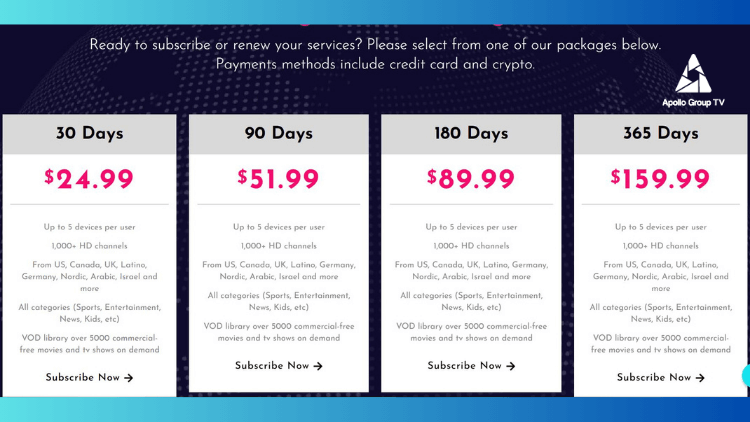 Apollo Group IPTV is available in USD:
1 month = $24.99
3 months = $51.99
6 months = $89.99
12 months = $159.99
How to download Apollo Group TV on Firestick?
Apollo Group IPTV supports all Android devices, Android/Android TV/Ios/PC/MAC/Firestick platforms, but there are also devices that are not supported, such as Roku and Samsung TV. Below we will explain how to download the Apollo TV APP on Firestick.
To install Apollo Group TV on your Firestick, follow these steps as it is not available in the Amazon App Store: Download an app called Downloader, and then proceed with the installation.

Allow Installation of Unknown Sources Apps
Scroll right from the main menu of Firestick and select the "Settings" menu.

Choose "My Fire TV."

Scroll down and select "Developer Options".

Find Apps from Unknown Sources. By default, it's disabled. Turn it ON.

Downloader App for Amazon FireStick
Turn on FireStick Home and go to the Find menu.

Select Search.

 Search will take you to a virtual keyboard on FireStick. Type Downloader, and choose it from the suggestions below the keyboard.

Select the Downloader app with the orange background in the APPS AND GAMES category.

To install third-party apps on FireStick, we'll utilize the Downloader app.
Download and Install Apollo IPTV APK on FireStick
From the FireStick home, move to the all apps screen.

Select the Downloader app to launch it.

Move to the URL box and select it. It will open a virtual keyboard to type a URL.

Note: After you subscribe to Apollo Group TV, you get an email containing all the relevant information for your account. With that, you also get guidelines to install the app on FireStick. In case you haven't received such info, you can email Apollo IPTV support and ask for it.
In the Downloader app, enter the URL you received via email to download the Apollo TV APP.
Finally, delete the APK file from the Firestick to free up Firestick memory.
Tip: If you cannot find the presence of the developer option in step 2, please see the tutorial on How to Get Developer Options on Firestick
If you don't quite understand the above-abbreviated steps, Apollo Group TV has the detailed steps and you can seek their help when you need it.
Comparing Apollo Group TV with Competitors
| Feature | AirTV | Apollo Group TV |
| --- | --- | --- |
| Service Name | AirTV IPTV | Apollo Group TV |
| Free Trial | 72 hours | No |
| Price | Various options, starting at $19.99 | Various options, starting at $24.99 |
| Channels | 1300+ Live TV | 1000+ Live TV |
| VOD | 3000+ | 5000+ |
| Premium Sports | Yes | Yes |
| EPG | 7 days | Yes |
| Catch Up | 7 days | No |
| IPTV Recording | Yes | No |
| Delivery | Instant Activation | 2-24 hours |
| M3U URL | No | Yes |
| Xtream Codes | No | No |
| IPTV Code | Yes | No |
| Country Coverage | UK, IE, AU, DE, GR, IT, FR | US, Canada, UK, Latino, Germany, Israel, and more |
| Supported Devices | Android, Firestick, Smart TV, and more | Android, Firestick, iOS, Smart TV, Mac, MAG, Windows |
| Connection Limit | 1 device | Up to 5 devices per user |
| Refund Guarantee | 3 days | N/A |
| Payment Methods | Visa & Mastercard | Credit card and cryptocurrency |
| IPTV Reviews | | |
While ApolloTV offers a solid IPTV service, it lacks features like free trials, and the ability to catch up or record shows. For users seeking these functionalities, AirTV IPTV service emerges as a viable alternative.
AirTV IPTV Review
AirTV IPTV, a notable name in the IPTV Australia arena, offers a dynamic viewing experience with a rich selection of channels and VOD content. Designed for modern viewers, AirTV IPTV provides a user-friendly interface and reliable streaming on various devices. It stands out for its quality service, offering an array of channels and on-demand content that caters to a wide range of interests. Whether you're into sports, movies, or international programming, AirTV IPTV brings it all to your fingertips with ease and efficiency.
AirTV IPTV Features
1300+ Live TV Channels
3000+ VOD Movies & Series
Premium Channels & PPV Events
7 days TV Guide (EPG)
Add Favorites Function
7 days Catch Up (Playback)
IPTV Recording (Cloud PVR)
UK, IE, DE, GR, AU, and more
| FEATURE | DESCRIPTION |
| --- | --- |
| Pros | |
| User Interface | Known for its user-friendly interface |
| Content Variety | Offers a diverse range of channels and VOD |
| Device Compatibility | Supports various devices including Android, Firestick, Smart TV, and more |
| Target Audience | Specifically tailored for Australian viewers |
| IPTV Trial/ Stable | 3-day IPTV Free Trial, Reliable and Stable Server. |
| IPTV activation mode | Instant IPTV Activation, No ISP Blocking |
| Customer support | 24/7 support is available through the ticketing system on its website as well as Telegram and WhatsApp. |
| Refund Guarantee | 3-day Refund Guarantee. |
| Cons | |
| Payment methods | Visa & Master card. |
| Additional Features | No detailed information on anti-freezing technology or server speed |
| Compatible Device | Not compatible with third-party applications |
AirTV IPTV Subscription Plans
AirTV IPTV, catering to the Australian audience, provides various subscription options. These include AirTV, AirTV Extra, and Family Package IPTV multi-room multi-device plan packages. Multi-room, multi-device packages can save you at least 60% on your subscription. Here it also offers you a 3-day free trial.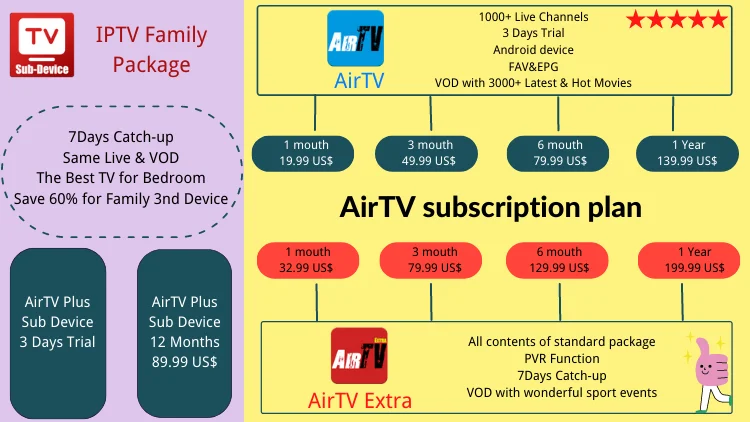 1 Month: $19.99
3 Months: $49.99
6 Months: $79.99
12 Months: $129.99
AirTV Extra 1 month: $32.99
AirTV Extra 3 months: $79.99
AirTV Extra 6 months: $129.99
AirTV Extra 12 months: $199.99
Sub-Device 12 months: $89.99
IPTV Family Package Multi-Room Multi-Device Plan:
Family Package1:1 x Plus+1xSub 12months subscription=$284.98
Family Package2:1 x Plus+2xSub 12months subscription=$369.97
Family Package3:1 x Plus+3xSub 12months subscription=$449.96
Family Package4:1 x Standard+1xSub 12months subscription=$229.98
How to install AirTV IPTV on Firestick?
To do this, you need to go to the AirTV IPTV website to register an account, and then purchase an IPTV subscription plan or IPTV free trial from the IPTV subscription page in the navigation bar. When you place your order, the system will automatically send you an email with information about the IPTV activation code. You can also find the code on "My Order". Or just get it here.
AirTV IPTV has a separate APK application.  On Firestick, as the app cannot be found in the Amazon Store. So, you need to install the downloader on your Firestick first. and then install the AirTV IPTV APK with the downloader to complete the activation.
Setting Up Your Firestick for External Apps:

Navigate to the Settings menu on your Firestick.
Choose My Fire TV or Device from the options.
Access Developer Options.
Turn on the options for Apps from Unknown Sources and ADB Debugging.

Downloading the Downloader Application:

Head back to your Firestick's main screen.
Utilize the search function by clicking the magnifying glass icon and searching for "Downloader".
Proceed to download and install the Downloader application.

Acquiring and Setting Up AirTV IPTV:
Installation Process:

After the download completes, follow the prompts that appear on your screen to install the APK.

Starting Your IPTV Experience:

Open the newly installed AirTV IPTV app from the section of apps on your Firestick.
Log in using your subscription details to start enjoying AirTV IPTV services.
These steps will guide you through the process of installing and activating AirTV IPTV on your Firestick, ensuring you have access to your favorite shows and channels.
FAQ
1. What is Xtreme HD IPTV?
Xtreme HD IPTV offers a seamless and affordable streaming experience with thousands of channels, 4k resolution, and device versatility, eliminating the need for traditional cable services and providing a high-speed, secure connection.
2. Does Xtreme HD IPTV have its own app?
These Xtreme HD IPTV apps work best on the aforementioned Android-based streaming devices. All you need to do is install these apps and start loading your channels. Of course, you can also install it with a third-party player.
3. What live IPTV channels does Xtreme HD IPTV offer?
Xtreme HD IPTV stands out as a widely embraced and technologically advanced service, offering over 20,000 live channels, 80,000 on-demand options, diverse content categories, dedicated sports channels, and a user-friendly experience with a customizable playlist and a comprehensive Electronic Program Guide.
4. Is XtremeHD IPTV Legal?
Xtrix TV could not confirm its legality. However, it is recommended that you use a VPN to protect your privacy.
5. Is there a free trial of Xtreme HD IPTV and AirTV IPTV?
Both XtremeHD IPTV and AirTV IPTV are available for free trial. But Xtreme HD IPTV costs $3 for 36 hours of testing. AirTV IPTV is free for 72 hours.
6. What are the alternatives to XtremeHD IPTV?
The alternatives to Xtreme HD IPTV: Yeah IPTV, King IPTV, IPTV Gear, Typhoon Labs IPTV, Xtrix TV, IviewHD IPTV…
Conclusion
In short, Apollo Group TV is a dynamic streaming option with its vast content library and Firestick integration. Whether you're an experienced cable subscriber or entering the world of IPTV, Apollo Group TV is proving to be a compelling choice. If, you want to have an IPTV service with a wider range of feature options, then I recommend the Apollo Group TV alternative: AirTV IPTV. If you are not familiar with the service, then please try their free test first.