The FIFA World Cup is a tournament that soccer fans all over the world aspire to because it's where they see their favorite teams and players. With the 2022 FIFA World Cup around the corner. Most sports fans are looking for the best way to watch them.

Among the many ways to watch the 2022 FIFA World Cup, you will find that Premium IPTV is one of the most convenient, fast, stable, and helpful ways to watch the 2022 FIFA World Cup. Compared to free streaming, the Premium IPTV service has the best advantages and cost performance.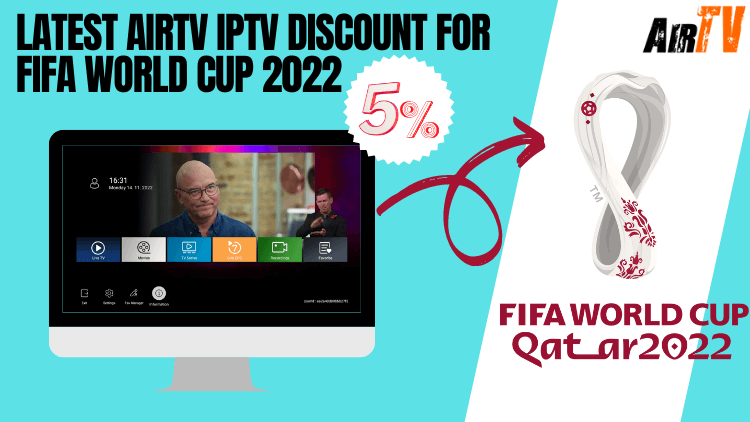 AirTV IPTV has launched its latest IPTV discount in time for the FIFA World Cup.
This limited-time offer saves you 5% off and is available on all IPTV subscription plans! So hold on to your gift!
How to participate in the IPTV promotion of the World Cup
If you get an IPTV promo code, it will save you a lot of money, what are you waiting for, follow me, here is a step-by-step tutorial on how to get and use a promo code.
Simple Steps:
Step1: Search for and type in links on your browser: "https://iptvairtv.com/"
Step2: Click the 'Subscription' button on the Home page
Step3: Select an IPTV Subscription and click the "ORDER" button
Note: The subscription page has three subscription plans: AirTV or AirTV Extra & AirTV Extra Sub-Device. Each type has a different monthly subscription plan, and you can receive the corresponding IPTV promo coupons according to your own choice
Step4: Enter the promo code "worldcup5" in the Coupon code below the home-shopping Cart.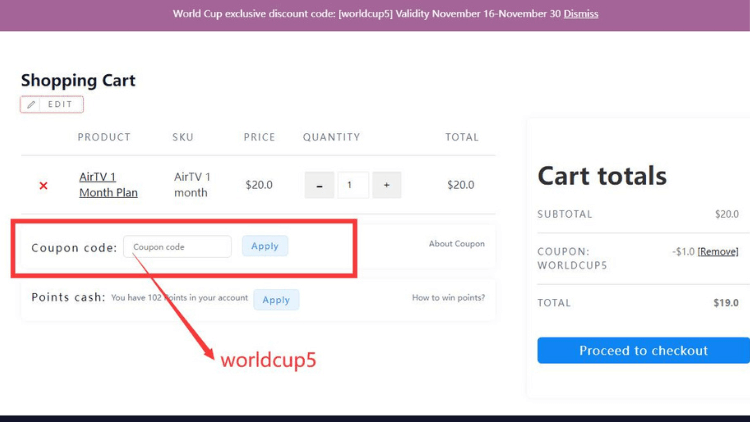 Step5: Then click on 'Your order' and the promo code automatically saves you a 5% discount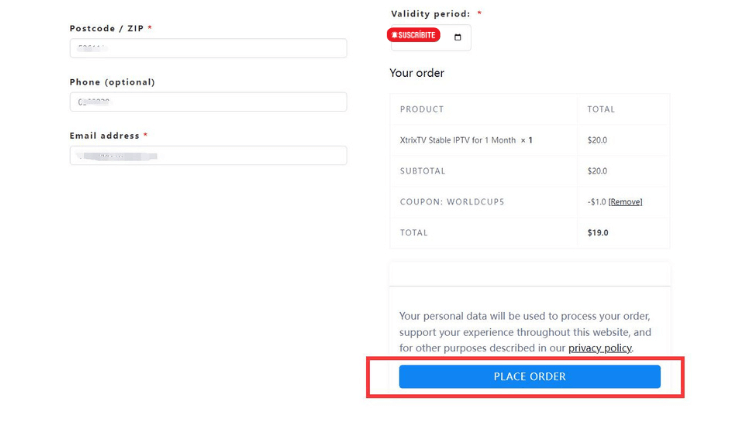 When it comes to watching sporting events, especially the 2022 World Cup, everyone wants a smooth, uninterrupted streaming experience. AirTV IPTV gives users quick and easy access to all 64 games.
Still on the fence? AirTV IPTV offers you 3 days of free trial to check the quality of our service.
IPTV Promotion date
With 5% off ANY service on World Cup
Date: Validity November 16-November 30
Coupon Code: worldcup5
Note: Our promotion is limited in time and saves you money, so take the opportunity to try it out, Enjoy Wonderful Live & Sports!
Related articles