Because of the Internet and other factors, we sometimes encounter buffering and freezing when using IPTV. These problems can affect our experience with IPTV subscription services. This article will solve the problems of AirTV IPTV not syncing and IPTV buffering and freezing.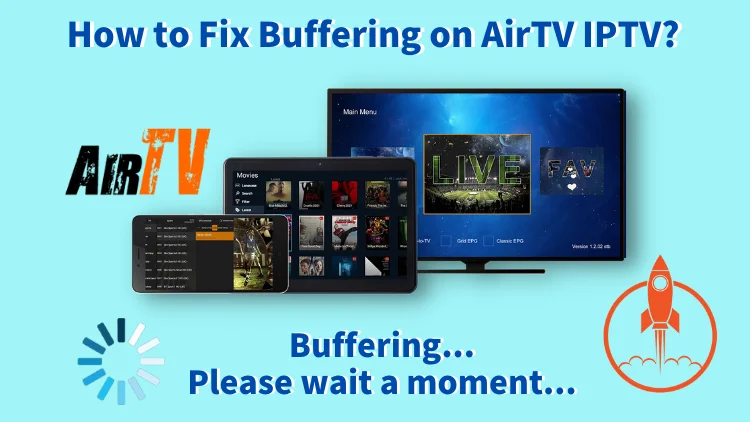 What is IPTV buffering?
IPTV streams will be buffered or frozen when your Wi-Fi is disrupted or when your IPTV provider's network is congested. The latter is a common problem with IPTV providers. . If more than one device is connected to your wireless network, disconnect the irrelevant device from Wi-Fi while streaming.
IPTV buffering is the process of preloading data into a reserved area of memory called a buffer. Cached messages usually show progress as a percentage, and when it reaches 100%, sound and video are played.
How to fix IPTV out of sync?
It may take a while for you to notice when the sound is out of sync with the video you're watching. But once you do, it's impossible to ignore and you want to find a solution right away. Now you need to switch the decoding mode to the synchronous decoder.
Settings – Misc. – Decoding mode -sync decoder
But there are also customers who switch the decoding mode and still have the same problem.
Hi, I'm having some issues with the dubbing on my AirTV Extra app on my android device. The dubbing is out of sync on most of the channels.
I've cleared the cache and tried the different decoders but nothing worked.
Any idea of what can be done to fix it?
Thanks.
If you encounter this kind of problem, we recommend uninstalling IPTV and reinstalling it.
Enter the following link into your device's browser to quickly download IPTV APK
AirTV IPTV for STB: https://www.iptvapkdownload.com/app/stbairb
AirTV IPTV for PAD: https://www.iptvapkdownload.com/app/padair
AirTV IPTVExtra for STB: https://www.iptvapkdownload.com/app/stbater
AirTV IPTVExtra for PAD: https://www.iptvapkdownload.com/app/padate
How to Fix Buffering on AirTV IPTV?
If most channels work fine, but there is a channel frozen or buffered, or no sound. The problem would be in the device's decoding ability.
Please go to our IPTV APK Settings – MISC to try: hardware/software decoding and it will solve this problem.
Update, AirTV IPTV currently has five decoding modes available, including software decoder, hardware decoder, vlc hw decoder, sync decoder, and exoplayer decoder.
Related: How to Clear Cache on Firestick and Firestick keeps restarting: Troubleshooting.
conclusion
When you turn on IPTV and encounter buffering, audio and video are out of sync.it depends on the compatibility between your device's firmware and IPTV transmission. You can understand the above content.it can be very good to help you solve and fix IPTV buffering, freezing, stagnation, out-of-sync, and other problems. I hope it will be helpful.