Provide more than 1300+ international live channels, 3000+ HD, full HD video, and movies on demand. 200+ valuable sports channels. AirTV Extra offers catch-up and PVR recording, with plenty of catch-up channels.
Available Channels: UK, Ireland, Germany, Australia, Greece, Italy, France, USA, Russia, Netherlands, Arabia, Turkey ……
Premium sports, soccer, boxing, news, and more ……
IPTV Subscription Compatible with: Android TV Box, Android Phone, Android Tablet, Android Smart TV, Firestick, Nvidia Shield…
Stable servers, high availability, no cutbacks (load balancing)
Fast and guaranteed servers with no interruptions and a team of repair technicians ready to solve problems.
AirTV vs AirTV Extra
AirTV IPTV 3-day Free Trial benefits
Work any place in the world with internet, no Dish, no Cable.
The Most stable HD IPTV service in the world!
3 Days Free Trial available & Simple for testing.
AirTV IPTV can run on Android devices like Samsung Mobile phones, Pad, TV Box, Smart TV, Fire Stick, Fire TV, Shield TV, NVIDIA SHIELD box, Enimga2 DVB Box, and so on.
1000+ Live TV channels, 3000+ VOD Movies
Grid/Classic/Traditional EPG Menus
With IPTV Standard and Plus two packages.
AirTV Extra packages with 7 days catch up (playback function for over 200 important channels and sports).
AirTV Extra Package with Cloud PVR Function (Record Function, Saving in the cloud forever)
AirTV Extra Package now supports multi-devices with the family package. You can order a Sub-Device code to save money now.
Stand-alone Android application
Code sent to you instantly once order.
Click here for a free trial of AirTV Extra IPTV and AirTV IPTV.
Click here: IPTV subscription
How do I get the AirTV IPTV trial and subscription codes?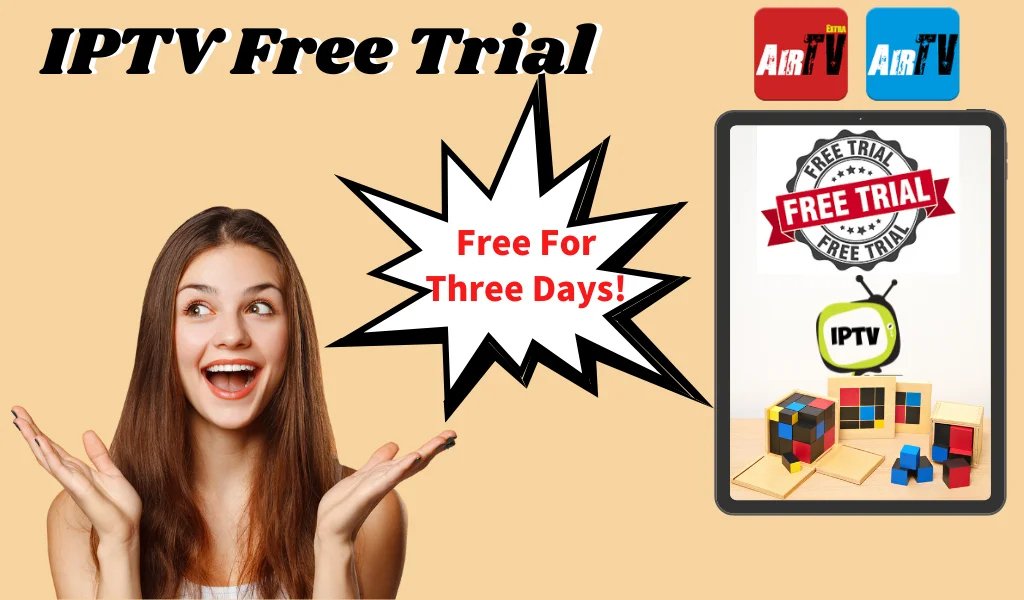 You need to log in to the AirTV IPTV website to register an account, fill in relevant information, and get the test code. Customer service will send you an email about the code.
Select the IPTV subscription plan that matches you, select the IPTV subscription plan on the subscription page, and click to get IPTV now. The subscription code will be sent to your email immediately.
Now you can install AirTV IPTV on your streaming device. You need to find the APK matching your device on the download page to complete the download.
Open the activation screen and enter the code you started to get to complete the installation.
Note: Mail may appear in your spam mailbox, this time you need to be patient and check. After you create an account, you need to remember the account password in case you need to subscribe and update your log in the next time.
IPTV APP Install Guides
Android Box
IPTV App Install
Go to the Settings on your Android device, choose Security, and enable Unknown Sources.
Install AirTV or AirTV Extra Apk on your Android Box. (STB Version)
How to get activated?
Open the IPTV App and Go to Settings > Account,
Type the IPTV Active Code.
Click here for a full tutorial: How to use AirTV IPTV on an Android device?
Amazon Fire TV / Stick
Go to Settings > My Fire TV > Device > Developer Options > Apps from Unknown Sources and turn it ON.
Install Downloader App on your Firestick.
Open the Downloader, Enter the AirTV Apk download link in the address bar.
After installation is complete, Open the AirTV Extra ApK, Go to Settings, and Input your IPTV Code.
Click here for a full tutorial: IPTV Basic Tutorial – How to use IPTV on Firestick?
Android Phone
Enable the Install from Unknown Sources setting.
Install AirTV Apk on your Android Phone / Tablet. (PAD Version).
Click here for a full tutorial: How to use IPTV on Android Phone & Tablet?
Where to get IPTV Activate Code?
Please visit the website to get your IPTV activation code (My Account > Orders > Code), or check your email for an activation code. Don't forget to check your junk folder.
If you do not receive your IPTV Activate, please email us at support@iptvairtv.com
IPTV Channels list
Our IPTV subscription includes HD and SD channels and VODS (movies, series, documentaries, anime, sports, etc.) With our IPTV subscription, you can access all international channels from around the world, including all major and pay channels from the UK, Ireland, Germany, Greece, all of Europe, and Australia, and we even have African, Asian, and Arabic channels.
Get an IPTV Free Trial to see the full list of channels.
Related products