What is AirTV IPTV?
Our AirTV is a solid IPTV service since 2015, with the content features of HD Live channels sports, VOD shows for global and mainly for the European market.
Below are some key futures of it.
-Work any place in the world with internet, no Dish, no Cable.
-The Most stable HD IPTV service in the world, with high-quality pictures and no freezing!
-3 Days Free Trial available & Simple for testing.
-Can run on Android devices like Samsung Mobile phone, Pad, TV Box, Smart TV, Fire Stick, Fire TV, Shield TV, NVIDIA SHIELD box, Enimga2 DVB Box, and so on.
-1000+ Live TV channels, 3000+ VOD Movies
-Grid/Classic/Traditional EPG Menus
-Valued Sports Channels, like EPL, SkySport, PPV, Sky Box, BeIN Sport, TSN, Ligtv, OTE…
-With Standard and Extra two packages.
-Extra packages with 7 days catch up (playback function for over 200 important channels and sports.
-Extra Package with Cloud PVR Function (Record Function, Saving in the cloud forever)
-Subscription plan: We offer different plans for subscription, 3 days test for free, 1 month, 3 months,6 months, and 12 months for your choice.
Brief introduction of our shop:
From the home page, you can get the introduction, 3 days free trial, and subscription plan. But before you do any application, please register first.
For the download page, we need customers to log in first and then download.
We also make the support page and reseller page as well.
What are the common problems and solutions for AirTV IPTV?
Q: Why my trial/Subscription code can not be activated?
A:
Please check whether fill in the right code or not?
Or please check which version of AirTV IPTV APK you installed?
AirTV (blue color)
AirTV Extra (red color)
Different version APK needs different trial code, please pay attention to it.
Q: How many devices can run with one code?
A: One code can be used on one device only.
If the device is broken or wants to use another device, please contact us.
The engineer will transfer the code to another device.
Q: My box is broken, how to transfer the subscription to a new device?
A: Yes, can be transferred to a new device.
Please inform the old code and new device ID to your seller. He will help you to transfer.
Q: I bought a new device, Can I change the AirTV IPTV subscription to it?
A: Yes, can be transferred to a new device.
Please inform the old code and new device ID to your seller. He will help you to transfer.
Q: Why did my subscription suddenly become 0 days?
A: Please check whether the subscription is expiring.
If not, please check whether your device ID changed or not? Some kinds of boxes, its MAC will change after reset or repaired. If so, please inform your old code and new device ID to your seller, he will help you reactivate again.
Q: Is there any difference between the Trial Code and Paid Subscription?
A:
| | | |
| --- | --- | --- |
| Trial Code | 3 Days | without Valued Sports Channels, like EPL, SkySport, PPV, Sky Box, BeIN Sport, TSN, Ligtv,  OTE… |
| Paid Subscription | 1/3/6/12months,30/90/180/370days | Full Channels |
Q: What is the difference between AirTV IPTV & AirTV Extra IPTV?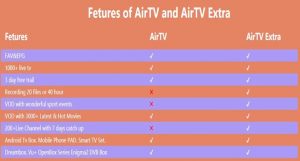 Q: How to get the AirTV IPTV trial code for free?
A: You can get the IPTV free trial code from this link
AirTV Extra IPTV Free
AirTV IPTV Free
If you have completed the payment of your IPTV subscription, our system will send the activation code to your account center. Please make sure in our web by My account-My order- order SKU/IPTV code.
Q: What?! Can do part-time and make money from AirTV IPTV?
A: Yes, Invite your friends to buy from your invitation link, read more
1. All you need to do is sign up to become an affiliate and set your affiliate link to this site via text or an Image banner. When a person clicks on the link from your site and purchases a subscription on this website, you earn a whopping 10% of the sale.
2.If you signed and bought a subscription code already, then no need to registered again. You can get your affiliates to link directly from your dashboard.
Q: Can AirTV IPTV run on firestick?
A: Normally, it can run on firestick…. as it is with Android OS, our Apk can run on any android device….included android tv dongle, IPTV on Firestick link:
Q:Can AirTV IPTV run on Samsung Smart tv?
A: For the Samsung Smart tv, if it supports the third part Apk, it should be ok with our AirTV IPTV Apk… Our Apk can work on any device with Android OS unless some smart tv set does not support the third-party Apk.
Q:Can AirTV IPTV run on MAG?
A: AirTV IPTV can not run on MAG250/254, but can run on Android Device like Samsung mobile phone, pad, Android TV box, even Engima2 DVB Box, like Dreambox, VU+
Do not receive a confirmation email of registration?
Q: I completed your registration yesterday to receive a 3-day free trial.
But till now still now receive the email to confirm my registration, I even clicked re-send but still nothing in my inbox or junk folder, etc.
Please help. Kind Regards
A: Normally the registration confirmation email will be sent to you automatically at once.
If not receive, please check your Junk Folder/ spam box.
If over 10mins do not receive it, please leave a message with your requirement or inform your registered email to us.
We will reactivate your registration, or send the testing code to you directly by hand.